A marketer walks into a bar …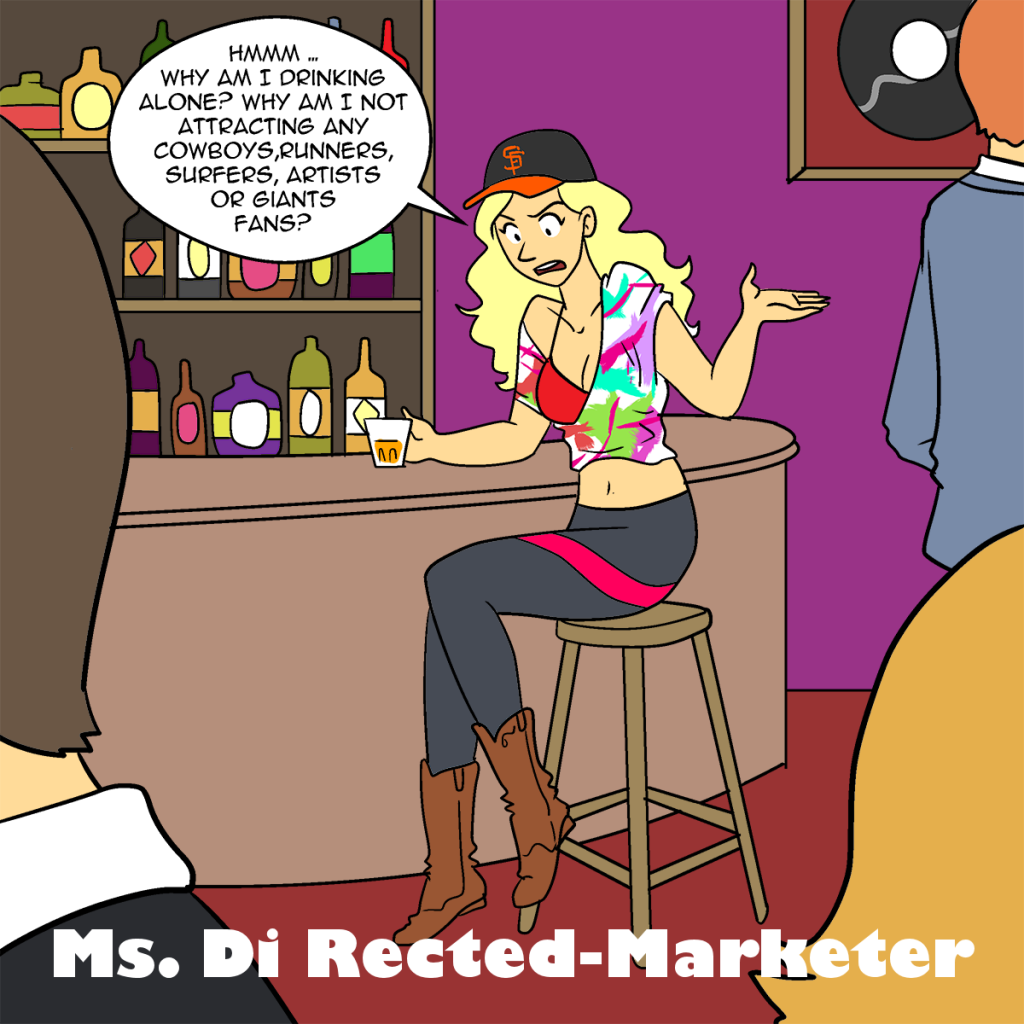 She wants to meet cowboys, so she's wearing her cowboy boots. She's also interested in runners, so she's wearing her running tights.
Artists and surfers are both cool, so she's wearing a paint-splattered shirt over her bikini top to attract them.
And she's a fan of the San Francisco Giants, so she's wearing a Giants baseball cap to attract fellow fans.
She's come prepared. She wants to meet the man of her dreams, and he could be a cowboy, a runner, an artist, a surfer, and/or a Giants fan. She's not sure which of these he'll be, so she's covered all her bases.
Yet, she ends up at the bar drinking alone.
She doesn't know why. Do you?
Trying to Be Everything to Everybody Doesn't Work
I hear many business people say that "everybody" is their ideal client. "Anybody" can use their products or services.
This isn't targeted marketing, and it won't work very well, because there's no focus.
While it may be true that everybody and anybody CAN use their products, it's almost certainly also true that not everybody DOES.
Instead of focusing on the huge, generic "everybody" target market, which has to broaden and dilute your marketing message to be essentially worthless, you'll get much better results when you focus your efforts on a single segment of your market.
What types of clients are most profitable for your business?
Who do you enjoy the most?
If you could, which of your customers would you like to clone?
Answering these questions will help you pinpoint which segment of your customer base you should be focusing more of your attention on.
Segmentation Focuses Your Efforts For Better Results
Get laser focused on a single segment for a single marketing campaign. Then do separate targeted campaigns for each additional segment that you want more business in.
When you can speak directly to a specific prospect's needs, wants, and desires … when you can make your marketing message emotionally compelling by making your prospect feel like you are talking specifically to them …
That's when marketing magic happens.
If our marketer had worn her cowboy boots, a cowboy hat, and appropriate other clothing to a cowboy bar, she probably would've had better luck attracting the cowboy that she wanted to meet.
If she wore her Giants cap with a Giants jersey and went to a sports bar, she might have met a fellow Giants fan.
If she'd narrowed her focus on a single target, she probably wouldn't have ended up drinking alone.
Michele Peterson, owner of Exactly Write, is a professional freelance copywriter, direct response marketing strategist and coach. She helps clients attract ultra-qualified prospects and convert them into loyal-for-life customers. She is currently accepting new clients. Contact her today to get started with a complimentary 30-minute consultation.