Some marketers call it engagement marketing. Some call it content marketing. Others call it brand journalism.
Whatever term you prefer, the approach is centered on providing valuable content to build your brand … to increase your company's trust and authority … to be more visible, credible and, ultimately, more profitable.
Smart, successful marketers use content marketing to establish and maintain a relationship with prospects and clients.  Good content marketing provides valuable information and educates your audience with stories that relate to your product or service. You get them ready to do business with you.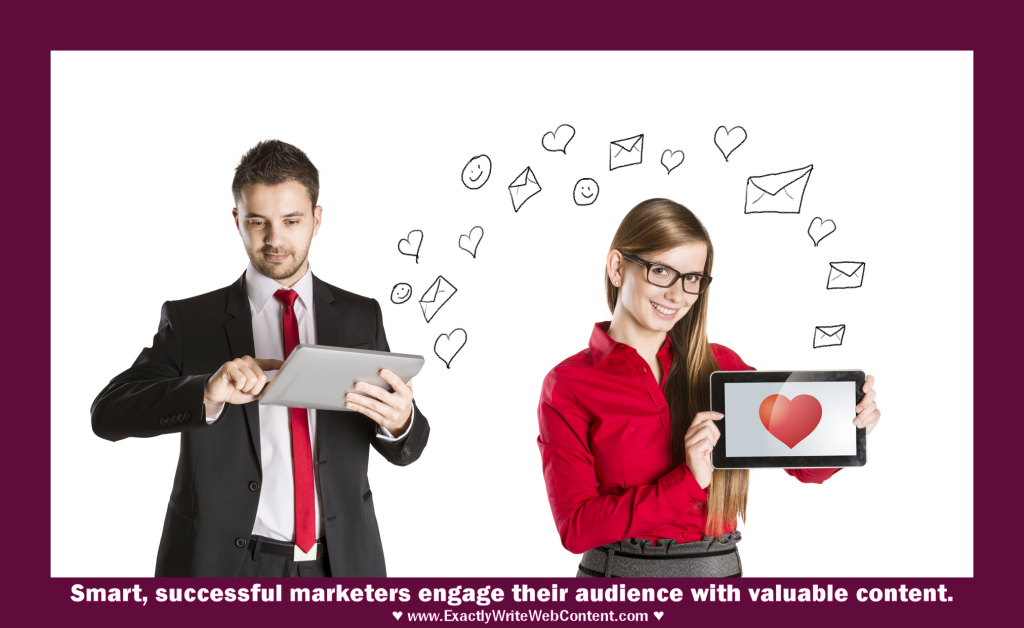 Content Marketing Draws Prospects to You
Prospects are drawn to this approach because it's open and honest, relational and relevant, and current and present.
Open and honest … relational and relevant … current and present. We're going to come back to these qualities time and time again in this series of articles because they're the foundation of effective engagement marketing.
Your relationship with your prospect goes through stages similar to those of an interpersonal relationship: the introduction, flirting and getting to know each other better, extended time spent together dating, and, finally, a commitment to each other … a sale.
We'll be looking at each of these stages in subsequent articles.
Do it Right, and You'll Be Irresistible
After reading these articles and implementing the content marketing strategies I'm outlining for you, you'll glide through these stages of the relationship with finesse …
You'll become a trusted partner, a go-to resource in your industry or area of expertise. You'll set yourself apart because you won't bombard your prospect with smarmy pick-up lines or high-pressure sales-speak.
Instead …
You show respect. You listen. You provide a little romance and build a meaningful relationship.
Are you ready? Click here to go to the next article in the series: How to Make a Good First Impression Online
I welcome your thoughts, comments, and additional insights! Leave a comment below.