You're a savvy marketer, and you have multiple traffic streams bringing people to your website to do business with you.
You have online ads, you have active social profiles, you have social ads, you have email, direct mail, video, and more …
So do you still need to worry about optimizing your website for search? Do you still have to incorporate SEO best practices?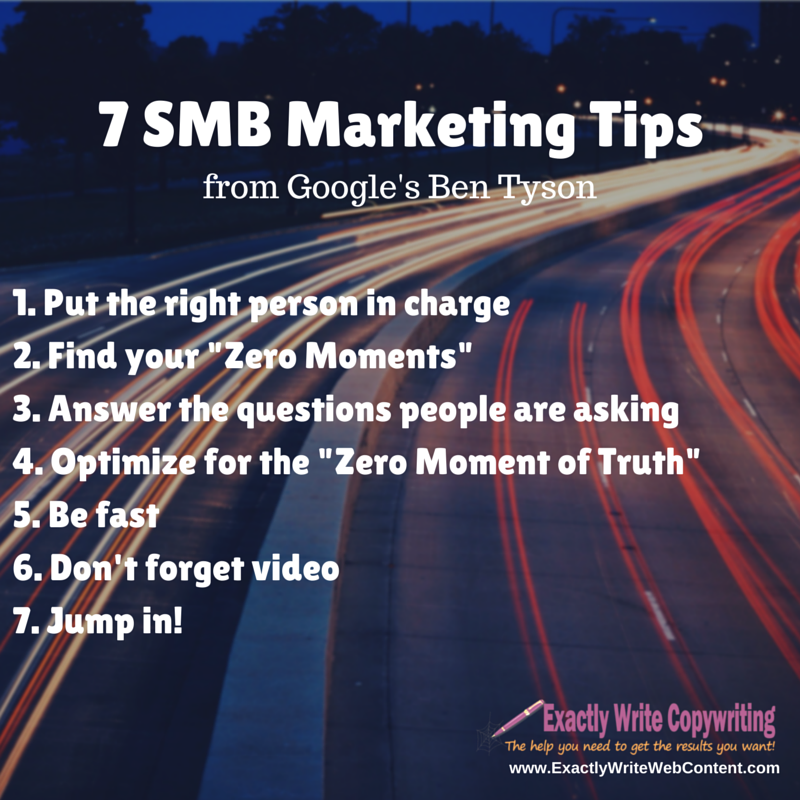 Yes. You do.
Google says so.
Specifically, Google's Strategic Partner Trainer Ben Tyson said so at a recent gathering of about 200 SMB marketers at the San Joaquin Country Club in Fresno, CA.
Tyson said the average consumer consults an average of 10.7 resources before making a buying decision, and 87% use a search engine before a purchase.
All of your traffic sources are good, but you also must be found by those 87% who are in buying mode right now. At Google, they refer to this as winning the "Zero Moment of Truth."
To paraphrase a bit, winning at the consumer's Zero Moment of Truth means being found when they're searching for a solution to their problem.
And this can happen only if your website is optimized for that search.
So how do you do that?
Search Engine Optimization is both an art and a science. You can either hire a copywriter who incorporates SEO best practices into their work to do it for you, or you can do it yourself.
Either way, here are some SEO basics you should know:
SEO Basics
Keywords and Key Phrases
The first step is to identify the keywords and key phrases that represent the questions your prospects are asking when looking for the solution you provide to their problem.
For example, a homeowner in Fresno with a burst pipe under their kitchen sink or a clogged toilet will be asking, "Where can I find a plumber in Fresno to deal with my plumbing emergency?" or "What plumber in Fresno can I call to fix my toilet?"
The keywords/phrases that the homeowner might type into the search engine are "plumber in Fresno," "plumbing service in Fresno," or "plumbing emergency in Fresno."
So to optimize your site for those keywords and phrases, you must use them within the content of your site. Weaving them into your content in a way that is natural and not distracting to the reader is the art of SEO work.
You also need to use them in the invisible "metas" behind the scenes: the meta title and meta description.
How do you do that? If you have a WordPress site, there are plugins that you can install that enable you to easily designate your SEO metas. I like the plugin by Yoast, but there are plenty to choose from.
Fresh, New Content
When you regularly update your site with new content, Google and the other search engines see your site as being more relevant than a site that hasn't been updated.
And sites that are more relevant get better search rankings.
Better search rankings mean your site is placed higher in the search results, so the consumer searching for a solution sees your site before all the other sites that aren't as "relevant."
Visual Content
The words you use on your site matter when it comes to SEO. You need to use the keywords and key phrases that your prospects use in their searches.
But in addition to using those keywords and phrases in the text of your site, you also need to use them in the alt tags and descriptions of your visual content — the images and videos on your site.
The search engines can only read type. They can't "see" an image or video and know that it's relevant, so you have to tell them what the image or video is. You do that in the alt tags and descriptions.
Good SEO Gives You a Competitive Advantage
Optimizing your site for the search engines means those search engines will see your site as being relevant to what your prospect is looking for. Because your site is relevant, it will appear higher up in the search results than others that the search engines deem not as relevant.
When you appear higher in the results, your prospect will find you faster. And you will have better odds of winning their zero moment of truth and getting their business.
Think of your website like a car. It can be sleek and shiny and have all the cool bells and whistles, but it won't take you anywhere if there's no gas in it.
Search engine optimized web content is the gas.
So, yes, SEO best practices do still matter. At least they do if you want to get anywhere — if you want to get results — with your website.
Your turn … If you have thoughts or insights you'd like to share about this article, please leave a comment below!
Michele Peterson is an award-winning direct response copywriter who specializes in writing web content and sales copy that works to attract and retain more of your ideal clients and customers … so you make more money. To consult with her about your project, please call 559.286.0106.